PWSA(NZ) 2018 Family Camp
May 11, 2018 @ 4:00 pm

-

May 13, 2018 @ 1:30 pm

$5 – $40
Please see our camp programme. We can confirm that we have been successful in obtaining grant funding from Pub Charity for a short sibling support workshop for children age 8 plus – we would like to make families with children of suitable age aware of this opportunity. Our programme also involves activities such as archery, team initiatives, orienteering, mudslide, visiting glow worms and a camp fire. (NB. The instructed activities will be for people with PWS and siblings only.) Accommodation is in shared cabins with bunks. We have use of 16 cabins in our lodge which means we will be able to spread out and keep cabin groups small. Within these constraints we will do our best to accommodate your needs – please let us know if you have any requests you would like us to consider.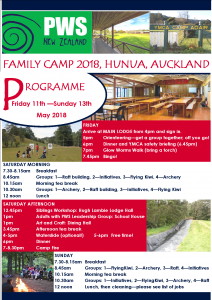 We are now in a position to offer daytime only bookings for our Family Camp. There are a 
limited number of spaces
 for daytime bookings as priority is given to those coming for the weekend and our camp is already quite full. You are welcome to register for a full day or half day at camp, but we do need to know when you plan to be there as there are strict rules regarding group activity numbers. We ask that you please let us know if you are attending for a 1/2 day (1 meal at camp) or whole day ( 2 or more meals at camp.)  We also want to ensure we cater for the correct number of meals required. These details can be provided on the
day registration form
.
Day rate camp contributions are as follows:
Whole day (2 or more meals):  $20/adult (18+), $10/child, under 5's free
Half day / evening (1 meal): $10/adult (18+), $5/child, under 5's free
HOW TO REGISTER – by Friday 6th April
Names of all attending (incl carers):
Ages of any children (under 18):
Mobile phone number for a member of your group:
Emergency contact name and number (someone not at camp):
Carer email and mobile phone number (for adults attending with a carer):
Any special dietary needs / food allergies:
An approximate arrival time (for those not booking flights):
2. Please pay your camp contributions by Friday 6th April into the PWSA account (your NAME and CAMP as references.)
3. We will post Camp Adair Participant Agreement forms to you for each registered person doing activities – please complete and bring to camp. (Please supply your postal address if we do not have this already.)
4. When you arrive at camp, please complete your registration by signing our attendance form and accepting full duty of care for those in your charge.
A reminder that registrations for a travel subsidy need to be received by March 31st (a notification of your intent to claim.) The subsidy available is up to $500 per family toward flight costs. To claim a reimbursement, please forward your booking / travel receipts via email with your bank account details by Friday 6th April.
If flight costs are proving to be a barrier to attending camp, further financial assistance may be available at the discretion of the PWSA board. Please apply to Sarah McLarin: 
ceo@pws.org.nz
by March 31st.
Transport from the airport to camp will be arranged. Details to follow.
Warm clothes appropriate for the weather and outdoor evening activities
Old clothes that can get wet or dirty
Enclosed shoes for activities, plus spare shoes
Togs or clothing for the waterslide / mudslide
Towel(s)
Bedding: sleeping bag, pillow
Cup / mug per person
Torch
Toiletries
Plastic bags, bin liners for wet clothing
Within limitations, we have tried our best to offer a relatively low carb menu that is as sugar free as possible. We hope that it will be quite easy for those who would like to lower the carbs further to do so, for example, by selecting eggs and beans at breakfast instead of toast and cereal.
Our help roster for serving food will only include parents and carers to avoid food temptations for people who have PWS. It would also be helpful if parents / carers could please supervise portions for those they are looking after as diets vary and not all adults and children with PWS will eat in the same way.
We would like to thank Don Grant at Primal Health Foods for donating some of his delicious Penati Nut and Seed Crackers for our morning and afternoon teas. Check them out here: 
https://penati.nz/
Unfortunately, at this time YMCA are unable to lock their kitchen (although they are working on this) so parents / carers need to be vigilant in not leaving those with PWS unattended in the kitchen / dining hall area and to be aware of this during the night. We will hopefully have a cupboard we will be able to lock ourselves to store our morning and afternoon tea supplies. Please be aware of others in your cabin if you are storing personal food in your cabin.