Leadership and Social Weekend for Adults living with PWS 2023
November 3 @ 6:00 pm

-

November 5 @ 12:00 pm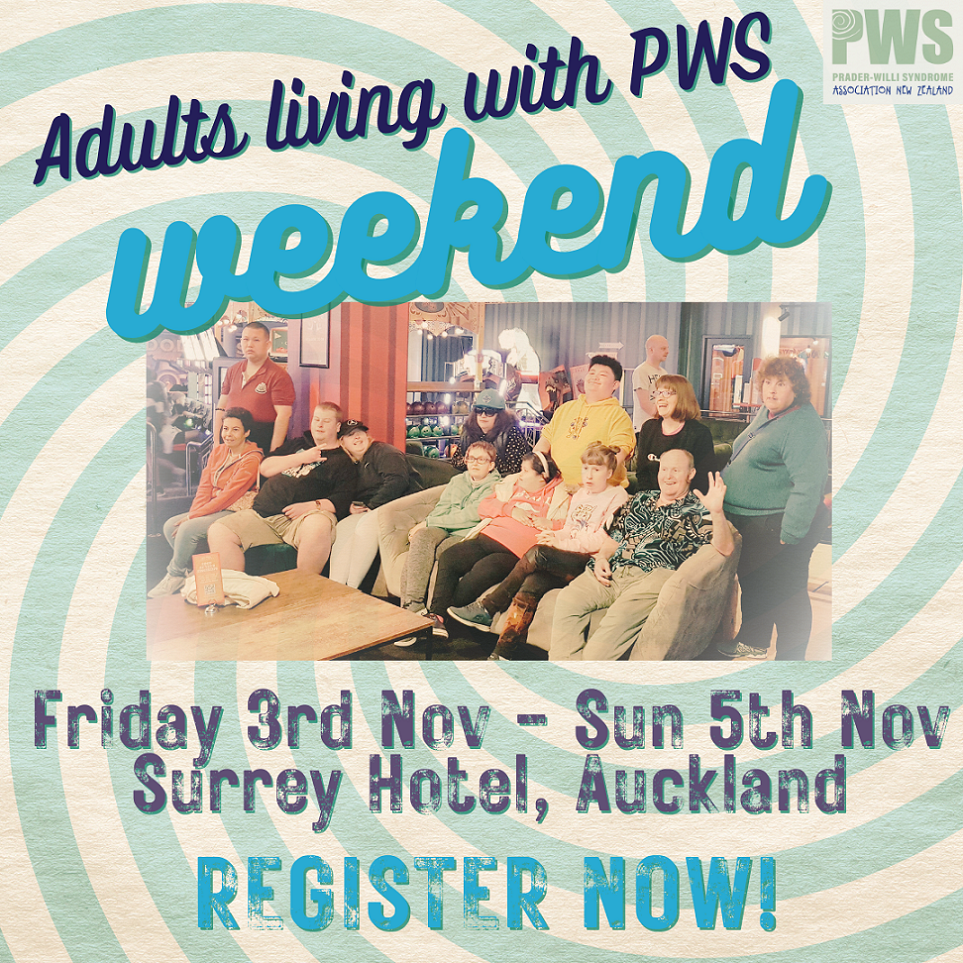 WHERE: The Surrey Hotel, Grey Lynn, Auckland.
WHEN: Friday November 3rd (check in from 2pm, dinner 6pm) until late morning on Sunday November 5th  (11.30am / 12 midday.)
COST: Registration is $50 per person (includes accommodation, meals and activities) / $30 pp for day attendees (meals and activities). Support Workers are free.
PROGRAMME: The weekend has a focus on self-advocacy and we hope to continue encouraging a leadership role in the work of the PWSA. (You can click here to view the ALPWS Leadership Group page.) The weekend will also focus on spending time together socially and include lots of fun!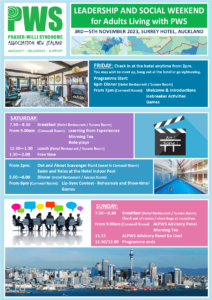 SUPPORT: We ask that adults living with PWS attend with a support person who could either be a Support Worker or a parent / other family member e.g. an adult sibling / or a family friend.
If an organisation is registering more than one client who has PWS and 1:1 support is not required, organisations are welcome to register a Support Worker who will support more than one client during the weekend.
All meals are provided and are self-serve buffet-style. We have a healthy PWS friendly menu, but those attending in a support role will need to be available to support with portions.
As with all PWSA events, our staff and volunteers are unable to have responsibility for duty of care due to our small team and our focus on leading and running the event as smoothly as possible. If you are attending in a support role, please note that you have primary duty of care during the weekend.
If you have any problems during the weekend, please speak with the team: Cindy (lead facilitator), Julie-anne or Mike.
REGISTRATION:  Due to very high interest, we had to give first priority for rooms to those travelling from further afield. Most Aucklanders are within 20-30mins travel time from the hotel and we are unable to provide rooms, but welcome you to attend as day attendees. This does not include the group from Spectrum Care who are travelling from further outside the city.
Please complete a

registration form

.
Then please make confirmation payment to the account below:
PWSA(NZ) 12-3659-0043686-00 (NAME and ADULTWKND as references)
FLIGHT SUBSIDIES: The subsidies offered are up to the amounts below per person. We recommend booking early before seats sell out or fares increase. In order to claim your subsidy, please email jo.davies@pws.org.nz with your flight booking receipt / ticket and the bank account number for the subsidy to be paid into.
From Christchurch $345
From Nelson $500
From Blenheim $365
From Wellington  $300
From Palmerston North $340
From Napier $265