Virtual Social Evenings for Parents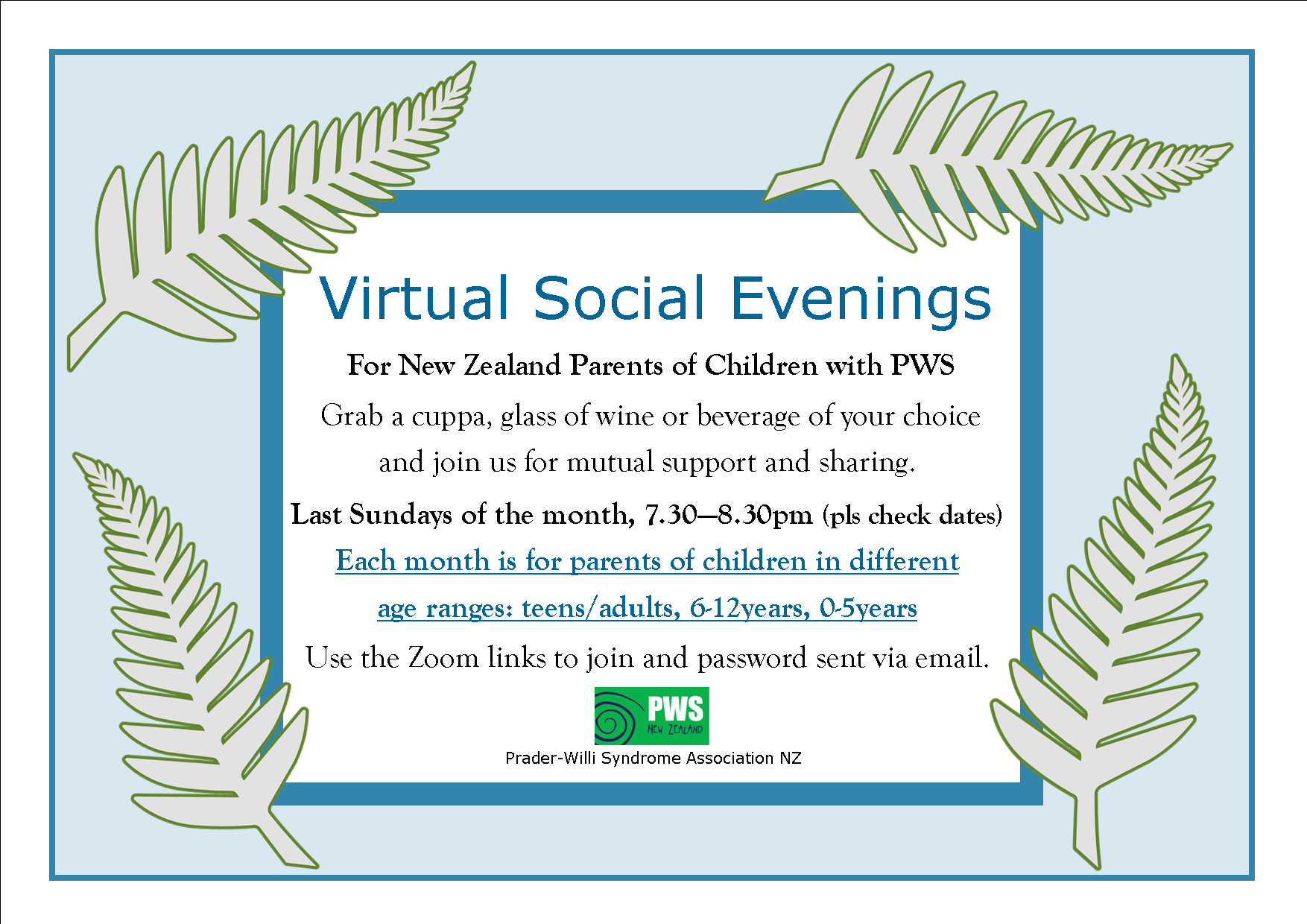 These meetings will generally take place on the last SUNDAY of each month at 7.30pm. Each month is for parents with children of a different age range, so there will be a meeting for each parent group every 3 months. Please check Facebook for details, any updates or date changes. The dads only meetings will take place on the last Wednesday of the month, once every 3 months.
Click on the meeting links below to access your meeting. The password is the same for each parent meeting and has been sent out via email. Please message or email us if you need us to send you the password.
For NZ Parents of Teens & Adults with PWS (13+)
Meeting link: https://us02web.zoom.us/j/87069599362?pwd=T1hkTFgzM0xldE1JL2FSdDJyMlpRUT09
For NZ Parents of Children with PWS 6-12 years
Meeting link: https://us02web.zoom.us/j/82584321460?pwd=QWRnUkwwdU5HQktrckNCeWdIcnBKdz09
For NZ Parents of Children with PWS 0-5 years
Meeting link: https://us02web.zoom.us/j/82261856722?pwd=QnNITytveDFGWmc5OUpncWI3WW1oZz09
For NZ Fathers of Children with PWS of all ages (last Wednesday of the month, every 3 months)
Meeting link: https://us02web.zoom.us/j/86971119123?pwd=eWQ2RE1obXU2dmt3aVVubG45WU1KUT09
Upcoming meeting dates:
Parents of teens and adults:
Sun 17th October 2021 (brought forward due to APPWS conference and Labour Weekend)
Sun 30th January 2022
Sun 24th April 2022
Sun 31st July 2022
Sun 30th October 2022
Sun 29th January 2023
Parents of children 6-12 years:
Sun 28th November 2021
Sun 27th February 2022
Sun 29th May 2022
Sun 28th August 2022
Sun 27th November 2022
Sun 26th February 2023
Parents of children 0-5 years:
Sun 26th September 2021
Sun 12th December 2021 (brought forward before Christmas holidays)
Sun 27th March 2022
Sun 19th June 2022 (brought forward due to Matariki)
Sun 25th September 2022
Sun 11th December 2022 (brought forward before Christmas)
Fathers of children of all ages:
Weds 24th November 2021
Weds 23rd February 2022
Weds 25th May 2022
Weds 31st August 2022
Weds 27th November 2022
Weds 22nd February 2023