PWS Awareness Month
May 1, 2020 @ 12:00 am

-

May 31, 2020 @ 11:59 pm
May is PWS Awareness Month!
During May we will be sharing lots of information about PWS on Facebook, which you can share too!
Although we may not be able to gather together in large groups this year, we can still wear orange on May 29th to celebrate PWS Day and share pics to help spread more awareness – we have awareness resources you can view and order here. (Please note we have limited Tshirt sizes this year.)
During the month you may wish to fundraise for PWS research and you can use our givealittle page to collect funds – just follow the link then click 'fundraise' to create your own page or just forward the link and ask people to click 'donate'. Here are some fundraising ideas:
Choose a virtual event, such as a half marathon or marathon to complete during the month. This can be done in your neighbourhood whilst still observing physical distancing!
Take on the FPWR 15 for 15 Challenge and choose a challenge to complete for 15 days (i.e. 15 miles, 15 minutes of an activity etc). If you start on May 15th, you will finish on PWS Day! Use our givealittle page as the FPWR page is likely to be set up for the USA and your NZ donors will be familiar with givealittle and receive NZ tax receipts.
'

Ditch your Lunch

' one day in honour of someone with PWS and donate what it would have cost – ask others to join you!
There are lots of other ways to get involved with raising awareness! See our calendar below to find out how! (You may wish to print this pdf version.)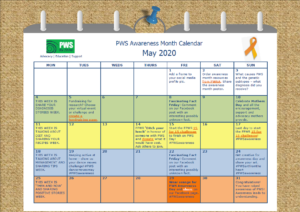 Weekly themes – Each week there will be a theme to the information we will be sharing on Facebook and we would like to hear from you! Please comment on our posts with your own tips, recipes and stories. Please also send us stories to share – we would love to hear diagnosis stories so that others may understand what those early days / weeks / months are like, and we would also love to receive positive 'then and now' stories. These could just be 2 pictures showing how much your loved one with PWS has changed or you may wish to write about some challenges they have overcome, their successes and achievements.
There is also the PWS Dance Moves May Challenge! We all know keeping active is very important for individuals with PWS and we know you love dancing, so show us how you are using your dance moves to keep active during lockdown. Share a video with the hashtag #PWSdancemovesmay and challenge a friend!
Please join us on Fascinating Fact Fridays! We will share a little known fact about PWS and we invite you to comment with a fact that you think not many people know or understand about your child, or about PWS in general.
Finally, you might want to get ready for PWS Day by creating some art work you can share. This might be a poster, a creation on the beach, some chalk on the footpath or fence…. We look forward to sharing your #PWSartfromtheheart creations!
NOTE: We will have themed weeks but the activities above do not have to be completed on set days!