Seasonal Tips for the Christmas Holidays
The build up to Christmas, the increased number of social events, and the holiday celebrations themselves can all cause additional anxiety for individuals living with PWS and their families.
Some tips to reduce stress on Christmas Day are:
Plan ahead – Christmas Day can be quite chaotic and this raises anxiety. Plan a schedule for the day which is an order of events rather than specific times. Involve individuals with PWS in the planning of the schedule. Review the schedule with them beforehand.
Agree a food plan for the day and involve individuals with PWS in this. It may be that they can have some of everything offered to all, but agree how much of each thing. Or if using some different foods, agree what will be swapped for a substitute.
Aim for food-free activities during the day and only have food available at eating times. Boxes of chocolates or bowls of nuts left out will raise anxiety.
Avoid gathering to talk around food tables or in the kitchen.
Plan how food security will work. If there are lots of people, it is easy to be distracted or to think that someone else is keeping an eye on things – plan who will be monitoring and who will be responsible for ensuring food is put securely away.
Stockings – these don't need to contain lollies / sweets. Alternatives could be small toys or games, stickers, little puzzle books, sugarless gum etc.
On Christmas Eve, consider replacing the usual food left out for Santa with a letter or thank you card. This will make for a much calmer evening!
If you are hosting a Christmas event and inviting someone with PWS and their family, ask about their dietary requirements beforehand and support the dietary plans they have in place. Avoid serving a buffet if possible, because this can cause food security and anxiety issues, and always check with parents before providing food.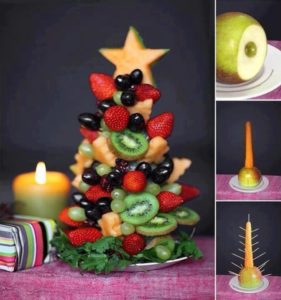 * You will find more seasonal tips in this
IPWSO Blog
which contains tips gathered from parents around the world. *
* 2022 update – view more great tips in this
Latham Centers blog
using the useful acronym GRANDMA. *