Vagus nerve stimulation for behaviour in PWS
SEPT 2022 – A focused campaign by the Foundation for Prader-Willi Research (#VNS4PWS) has been raising funds toward a large-scale trial of VNS which will be conducted across multiple centres in the USA. This trial requires quite significant funding, but it is hoped that this use of research funds could be the most impactful to date.
So, what is vagus nerve stimulation?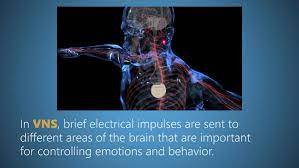 VNS alters the activity of nerves to stimulate brain areas which are involved in controlling emotions and behaviour. It previously involved surgically implanting a device that sends regular short electrical pulses through the vagus nerve in the neck, but transcutaneous vagus nerve stimulation (t-VNS) can now be used, which is where an external device is worn in the left ear and an electrode stimulates the auricular branch of the vagus nerve.
In 2015, a preliminary study conducted at the University of Cambridge reported that 2 out of the 3 participants and their carers observed consistent, beneficial effects on maladaptive behaviour, temperament and social functioning. A larger follow-up proof of concept study which used external (rather than surgically implanted) vagus nerve stimulators was initiated with findings published in 2019 revealing, "4 of the 5 participants who completed the study exhibited a statistically significant reduction in number and severity of temper outbursts after approximately nine months of daily four-hour t-VNS." Treatment was found to be safe and effective.
Success has been associated with increased activation of neurotransmitter systems and in particular, increased brain levels of gamma-aminobutyric acid (GABA), a neurotransmitter which is known to be reduced in some people with PWS.
You can watch the VNS for PWS webinar to find out more about this promising potential treatment.
You may also want to share this brief VNS for PWS 2022 fundraising video.